Strawberry Lemonade Gelées CREATIVE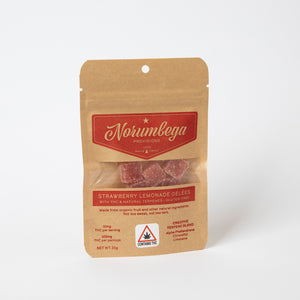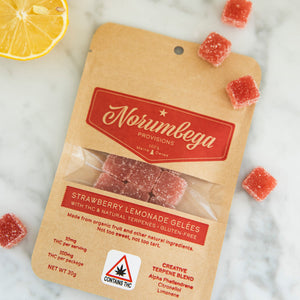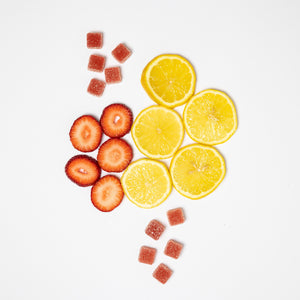 Made from organic strawberries, organic lemon juice, and other natural ingredients.  Not too sweet, not too tart.
Not your standard "gummy," our gelées are made from real organic fruit puree, juices, and other natural ingredients. Handcrafted with love in small batches in our Maine kitchen. Infused with locally-sourced, full-spectrum cannabis extracts and lab-tested for safe, consistent dosing.
Our CREATIVE TERPENE BLEND includes Alpha Phellandrene, Citronellol, Limonene, and other natural terpenes. All of our terpene blends have been formulated by a board-certified neurologist and research pioneer in psychopharmacology, with 20+ years of research and education surrounding the Entourage Effect and terpenes.
Alpha Phellandrene
Effects: Reduced pain sensitivity, increased energy 
Aroma: Minty, woody
Also found in: Eucalyptus, allspice, pine
Citronellol
Effects: Anti-inflammatory, pain relief 
Aroma: Floral, citrusy
Also found in: Lemongrass, rose, chamomile
Limonene
Effects: Stress relief, mood-booster
Aroma: Citrusy, bitter
Also found in: Citrus peel, rosemary, mint
Ingredients: Organic Cane Sugar, Organic Tapioca Syrup, Water, Organic Strawberries, Gelatine, Organic Natural Flavors, Organic Sunflower Oil, Organic Lemon Juice, Citric Acid, Maine Cannabis Concentrate, Organic Sunflower Lecithin, Creative Terpene Blend (Alpha Phellandrene, Citronellol, Limonene, Alpha Pinene, Beta Caryophyllene, Alpha Terpineol, Linalool, Nerol, Camphene, Para-Cymene).
Gluten Free.  Lab Tested.  
-NET WT 3
0g
PMS199