DIY Mushroom Chocolate-Making Kit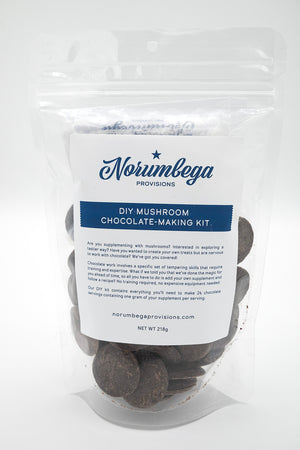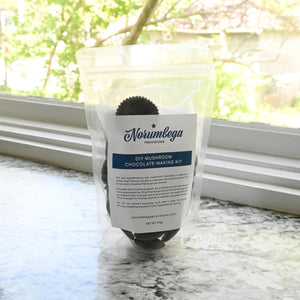 Are you supplementing with mushrooms? Interested in exploring a tastier way? Have you wanted to create your own treats but are nervous to work with chocolate? We've got you covered!
Chocolate work involves a specific set of tempering skills that require training and expertise. What if we told you that we've done the magic for you ahead of time, so all you have to do is add your own supplement and follow a recipe? No training required, no expensive equipment needed.
Our DIY kit contains everything you'll need to make either 28 (10 gram) chocolate servings containing one gram of your supplement per serving, OR 35 (5 gram) chocolate servings containing 0.1 gram of your supplement per serving. 
See our instructional video above! Please note that the instructional video is demonstrating a calculation that may be different from your purchase. Please refer to your instructions in your recipe card for your exact measurements.
Contents:
Pre-measured organic 70% chocolate 
Pre-measured organic pre crystallized cocoa butter 
1 pastry bag
28 or 35 candy cups 
Recipe card with QR code to access our DIY video.
You will need:
28g or 3.5g of well-dehydrated mushroom supplement, finely ground.
Microwave safe glass bowl, spatula, thermometer, jar or large cup, scissors, kitchen scale, container for finished products, dough scraper (optional). 
Note: If your supplement is not finely ground, you will need to mill it using a spice grinder or food processor prior to beginning.
Ingredients: Organic Cacao Beans, Organic Cane Sugar, Organic Cocoa Butter, Organic Sunflower Lecithin.
Vegan, Gluten Free
- 3.5g Dose: 167.5g choc, 4g PCB, Net Wt. 184g
- 28g Dose: 248g choc, 4g PCB, Net Wt. 262g